Fabrication Shops
D & S has a fully equipped modern Fabrication Shop with an entire range of resistance Welding machines including Spot welding, Seam Welding Machines, a variety of M.I.G. / M.A.G., A.C / D.C. Tig welding machines and Special Purpose welding machines to maintain high quality standards and large volumes.
Press Shops
D & S has a wide range of presses ranging from 10 tons to 630 tons at its plants. The Press Shop has a full-fledged die maintenance setup. D & S uses preventive maintenance & first piece inspection to ensure repeatability of its press components. Our Chakan Plant is equipped with a heavy press shop consisting of imported 630 T Hydraulic Press, 400 T Double Action Hydraulic Press, 500 T (2Nos.) imported mechanical Presses, with NC shearing machine.
Paint Shops and Powder Coating Shops
D & S has excellent Powder coating and Painting facilities spread across all plants. Specialised coatings, like Heat Resistant, PVC Coating and Abrasion Resistant Painting facilities are also available. D & S has a well equipped Laboratory comprising Salt Spray Chamber, Hardness Tester, Cross cut Tester, Digital DFT Meters and Millipore Testing labs Updated Effluent treatment plant treats process water to ensure a cleaner and greener tomorrow.
Tool Room
D & S has a modern Tool Room with precise and versatile facilities to design & manufacture Press Tools, Welding Fixtures, Relation Gauges etc. It is manned by over 30 skilled personnel. Software such as Unigraphics are deployed for surface modeling and tool path generation to ensure rapid manufacturing and accuracy of tooling & fixtures.
Tube Processing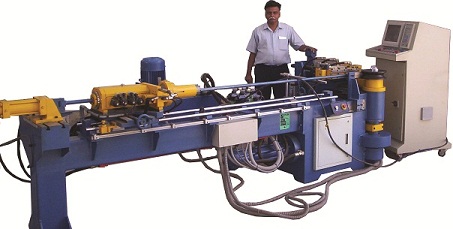 D & S has a range of CNC Bending Machines with Tube Bending ranging upto 65mm at its plants. D&s also carries out Channel bending / rolling in high strength material like BSK36 and E34 Tubes for mounting brackets. D & S produces Complex Tubular Assemblies like Cross Car beams, Spare wheel carriers and Bull bars.